∞ ⋈ ∞ ∞ ⋈ ∞ ∞ ⋈ ∞ ∞ ⋈ ∞ ∞ ⋈ ∞ ∞ ⋈ ∞
Divided Party (DiP)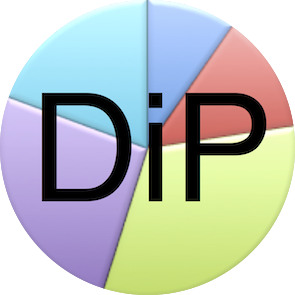 Registration of DiP
Notice was received on 6 December 2018 from the Independent Electoral Commission (IEC) in South Africa, it approved the registration of a new political party called Divided Party (DiP). Work is ongoing to contest the 2019 general elections.
Policy of DiP
The idea of the party is basically; acceptable dividing criteria exist, and if the criteria are respected, people from different backgrounds can divide themselves in a peaceful united way. Previously divisions came into being via wars, which are unacceptable.
Different groups are represented by DiP, each with their own policies. Land policy, because it is the most topical, can be used to explain how it works. The only shared policy, among the leaders of DiP, is, governance of land must be divided. How the division will take place, and where borders will be, are matters for negotiations. The division of land does not mean people will have to move, if they do not want to. In Europe, for example, people can live anywhere.
A proposal in DiP, is to attach, language and belief preferences, to land. An area could have only one first language and English as second language, whilst the laws of the area mirror the beliefs/convictions of the group, governing the region.
Governance will become more decentralized. Culture and philosophy/religion, have an important influence on the law and education, therefore each area will have an own legal and education system. A big difference exists among different groups, when, for example, "the individual" are considered or not. It has a major impact on creativity, development methodology and sustainability. Different beliefs/convictions on the same piece of land cause friction. How money forms is influenced by belief. With modern technology, different areas can align their monetary policy to their beliefs/convictions, if they want to.
A leader of DiP may promote any policy, but the policy must align with the constitution of DiP, to divide peacefully. Therefore, different Houses will form in DiP, something the constitution makes provision for.
The following proposed steps to determine land policies will be discussed.
1) A survey is made of all land in South-Africa to determine regions' carrying capacity.
2) Different groups who are interested to determine their futures self are identified.
3) A referendum determines how many people exist in each group.
4) The governance of weighted land, according to its carrying capacity, is allocated to different groups.
5) Borders for decentralized governance are drawn. Language areas already exist in South Africa.
Moving is not a prerequisite for dividing a country. Division can happen only with regard to governance, without requiring movement. If people want to move, it can happen as time goes on, after establishing different governance regions. Changes in the short term, in most areas, will probably not be much. In the long term, adjustments in line with reality, will happen gradually. DiP therefore promotes constant gradual changes, and rejects revolutionary change, DiP's policy implies.
Constitution of DiP
The constitution of DiP explains its primary purpose.
Funding of DiP
DiP is not a rich party. Currently raising capital is important, to pay deposits for candidates of the 2019 elections. Around 700'000 ZAR is required for a candidate on the national ballot paper and a candidate on each of the provincial ballot papers. Funds are required for marketing as well.
Any proposals for funding are welcome. Channels for financing of DiP are as follows:
Africahead Ipparts (AFA)
1'000'000 ZAR of the proceeds from the Africahead Ipparts (AFA), over the counter ICO, will be donated by Africahead to DiP.
Donations can be made via Paypal and Payfast
Paypal
At Paypal, an own amount can be entered in USD.
Payfast
If the amounts at Payfast are not suitable, contact Africahead to make other arrangements.
R 50

R 100

R 500

R 1000

Seats and Houses of DiP
Seats (votes) in the Executive Body (EB) and Houses of DiP can be bought, transferred and inherited. Bought seats (votes) on the EB however do not automatically make leaders/candidates who can vote in legislative bodies of South Africa.
Candidates for the 2019 general elections
National Ballot Paper
Marquard Dirk Pienaar
Provincial Ballot Papers
DiP is looking for candidates. Interested others can contact Marquard Pienaar at:
Tel: +27(0)824477125
Email: africahead2@gmail.com or mdpienaar@africahead.co.za.
Social Media
DiP can be discussed at Google Groups.
DiP can be contacted at the Google Group email address:
divided-party@googlegroups.com or any other contact address of Africahead.